12 TZ'I' ~ Today's Ch'umil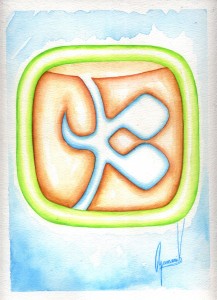 Tz'i' symbolizes righteousness and justice, this Ch'umil proyects the wisdom of the Ancestral Authorities. Today it merges with the energy of number 12, which represents the family, the community, and the consciousness of being. Connect to the Sacred Laws and ask that they guide your path and actions, that they grant you the wisdom to do what is right for you and for those around you. Remember that it is important to be impeccable in every action and every word, being fair and empathetic, not judging and respecting the path of every person.
Tz'i' simboliza la rectitud y la justicia, este Ch'umil proyecta la sabiduría de las Autoridades Ancestrales. Hoy confluye con la energía del número 12, que representa la familia, la comunidad y la conciencia del ser. Conéctate a las Leyes Sagradas, pide que te guíen en tu caminar y tus acciones, que te otorguen la sabiduria para hacer lo correcto para ti y para quienes te rodean. Recuerda que es importante se impecables en cada acción y cada palabra, ser justos desde la empatía, sin juzgar y repsetando el camino de cada persona.

Latest posts by Denise Barrios
(see all)