WUQUB' IMOX ~ Today's Ch'umil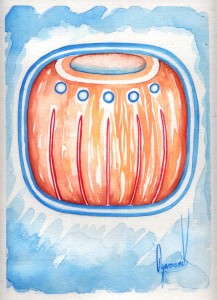 While sitting on a hilltop after a walk of power, I asked Elder Pascual the reason for which we, human beings, are practically blind to the reality that he was revealing to me. How could we awaken and visualize this profound vision of reality, this magical world in which the essence of all things was perceived differently, an energetic world that I could barely glimpse with the senses that remain blocked for most. The wise man answered: If any Ch'umil gives you an openness to what we call unknown is Ajaw Imox, it connects us to the world of inner powers that we rarely allow to flourish, because we are anchored to a vision that has been imposed on us; an order in which our true nature is limited, mainly by our reason, for in the last centuries we gave much space to reasoning and we enclosed our existence in this vision. We forgot that we have other senses that allow us to perceive a world that is closer to the essence of creation. Our purpose now is to develop these senses and therefore find our purpose, for the complete human being is not a utopia, it is a reality that has been withheld from us.
The teaching of Ajaw Imox is one of openness to the unknown. This Ch'umil is the one who activates the dormant senses and gives us the determination to reach and complete our level as humans. It helps us to define and create our reality. Imox is the correct path to break the structures that prevent us from "seeing" and to place ourselves in this dimension with our integral being.
The only thing that is not valid in our journey is to remain stagnant.
~Carlos Barrios
Sentados en lo alto de un cerro, luego de una caminata de poder, le pregunté al abuelo Pascual la razón por la cual los seres humanos estamos prácticamente ciegos ante la realidad que él me estaba enseñando. Cómo podríamos nosotros despertar y visualizar esta profunda visión de la realidad, este mundo mágico en el que se percibía de diferente forma la esencia de todas las cosas, un mundo energético que apenas vislumbraba con los sentidos que permanecen cerrados para la mayoría. El sabio respondió: Si algún Ch'umil te da una apertura a lo que llamamos desconocido es Ajaw Imox, este nos conecta al mundo de los poderes internos que rara vez dejamos florecer, pues estamos arraigados a una visión que nos han impuesto; un orden en el que nuestra verdadera naturaleza está limitada, en esencia por el uso de la razón, pues en los últimos siglos le dimos mucho espacio al razonamiento y encuadramos nuestra existencia en esta visión, nos olvidamos que tenemos otros sentidos que nos permiten percibir un mundo más cercano a la esencia de la creación. Nuestro propósito ahora es desarrollar estos sentidos y por lo tanto encontrar nuestro propósito, pues el ser humano completo no es una utopía, es una realidad que nos ha sido vedada.
La enseñanza de Ajaw Imox es de apertura a lo desconocido. Este Ch'umil es quien activa los sentidos dormidos y nos da la determinación para alcanzar y completar nuestro nivel como humanos. Nos ayuda a definir y crear nuestra realidad. Imox es el camino adecuado para romper las estructuras que nos impiden "ver" y ubicarnos en esta dimensión con nuestro ser integral.
Lo único que no se vale en el camino es quedarnos estancados.
~Carlos Barrios

Latest posts by Denise Barrios
(see all)