N'OJ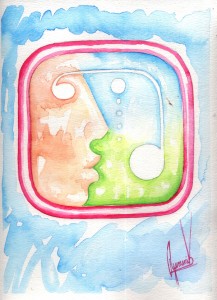 SIGNIFICANCE OF GLYPH
It symbolizes the knowing. The drawing in the center represents the brain and the points are the three grades of the human spiritual growth.
THE DAY
The Energy of this day is good to nourish the mind, to harmonize relationships, to ask for clarity and especially to transform knowledge and experiences into wisdom. This is a good day to ask for good memory, for the signs in the blood, in the fire, in the stones and the sacred Tzi'te'. It is also a good day to unite ideas, to study the Mayan signs, to give offerings to the Kab'awil, to ask for understanding in marriage, to do away with bad ideas, to change the bad habits, to ask for vitality, to ask for force, and warmth and movement in the sick body. N'oj is where the mind-energy governs, the knowledge and the good memory. It is the connection of the universal cosmic mind with the mind of the human being. Nobility is the major virtue that the energy of N'oj brings because this day is gifted with all the virtues, especially: patience, prudence and the sublime love. The renunciation brings clarity and it is the guide of life. It governs also the studies, the human science and the studies of the mind.
THIS DAY IS GOOD FOR
It is good to ask for the knowledge or tranquility; for peace or nobility; it is a good day to analyze; it is a good day for understanding between couples; it is a good day for the studies, for the scientific investigation; it is a good day to ask for good thoughts; to do away with obsessions, bad ideas and people that have bad intentions; and to be in harmony with the supreme being.
PRONUNCIATION BY ELDER MARIANO XUTUMIL