AJMAQ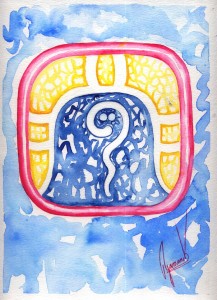 SIGNIFICANCE OF GLYPH
The glyph signifies the mind in the state of forgiveness and illusion. It is the brain in which lines of rays expand out to all places in a spiritual communion with the Nawales.
THE DAY
This is a very appropriate day to forgive and ask for forgiveness, to do away with our faults through sacrifice, to avoid confrontations, to cure any type of illness, for the defense of the dispossessed and for the justice of the earth. Good day to ask to be in harmony with mother earth, to ask for the fathers (gods), for the souls of the grandmothers and grandfathers and to ask for the cosmic force. This day brings an energy that is the mother of all errors, the offenses and irresponsibilities we have done before the Ajaw (creator and former) and before any manifestation of life and creation. This is why it is a good day to ask for forgiveness for the offenses that have committed. On another hand, Ajmaq is a good day to withdraw spirits of bad death, spirits that induce all vices and to remove any love that is by force or by obligation. The energy of Aj represents the authority, the experience and the virtue of a long transit in life. The energy Maq represents the fog and the obscurity. It is the seven sins-wuqu'qak'ix- (arrogance, ambition, lies, crime, ungratefulness, ignorance and envy).
THIS DAY IS GOOD TO
Ask forgiveness for any problems or negative aspects. For any harm we may have caused, conscious or unconscious. Ask forgiveness for our sins and negative thoughts. This is a good day to ask that there may be no wars, to ask for no personal or collective confrontations. Good day to ask for the healing of any type of illness, especially sexually transmitted diseases. Day to ask for no robberies. For the spiritual and material fortitude. To do away with the spirits of bad death, do away with negative thoughts and negative energies and to do away with slander.
PRONUNCIATION BY ELDER MARIANO XUTUMIL