TIJAX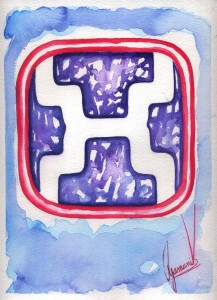 SIGNIFICANCE OF GLYPH
The glyph symbolizes the point of the knife seen from the front and the pyramid seen from the sky by the Nawales.
THE DAY
This is a good day to ask for the health; to cure difficult diseases; to do away with enemies; to do away with negative energy and to do away with societies. Also it is a good day to ask for intelligence and for the memory; gives us the force of the lightning; it helps us to develop the signs of the blood and the dreams; it liberates us from accidents; it is also a good day to stop doing damage to mother earth; for good health; it liberates us from the jails of materialism; for the rapid healings; to do away with bad friends and relationships; to cut bad intentions and lovers. Represented by the double bladed knife, the image is that of two faces of a coin that converge at a point, so in that sense, we don't know where one side ends and the other side begins. It is to say that part of the positive is in the negative and part of the negative in the positive. So the image is clear in telling us that Tijax is good with the positive and drastic with the negative. Tijax brings the power to cut mysteries and to open the gates to another dimension. It also symbolizes pain and sadness. It is the arrow that brings danger and on this day purifies the balance that we have done be it positive or negative, making us pay or teaching us on the physical, mental and/or spiritual plane. It is the energy that has the force that liberates the rational, likes to provoke controversies. In the representation of the Telluric force on the earth (earthquakes and tremors), it indicates to us an energy of change or collapse. It gives us a good shaking to understand our true path.
THIS DAY IS GOOD FOR
To cut away all negative energy; bad luck; illnesses of any type; to start off a new path. It is a good day to liberate us from: anything that has us trapped; from enemies; from accidents. It is a good day to cut dependencies; to do quick healings; to do away with bad friends and bad influences; to cut away suffering; to do way with deceit; to cut slander, fear and any negative aspect.
PRONUNCIATION BY ELDER MARIANO XUTUMIL