IMOX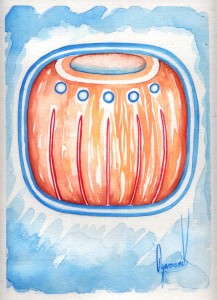 SIGNIFICANCE OF GLYPH
The glyph signifies a glass of water. The top part is the mouth; the vertical lines represent the roundness. It also represents the maternal breasts, ready to provide milk to the child. It also represents a hand stretched downward.
THE DAY
This day is good to increase the internal powers. It is a good day to fortify the spirit. It is a good day to ask for rain; for the purification of the rivers, lakes and oceans. This day is utilized to capture the messages of the divine and of nature; to ask for the return of the couple; to be able to receive the messages through the dreams; to ask for the good crops; to help return somebody that is far away from their land. This is a day to eliminate mental problems; to ask for what nourishes us; to ask for humanity; and to help cure the craziness in the family. It also represents "craziness", the one that breaks stability. It is an energy that brings strange things and it is bound with the comets which are the seeds that germinate life in space. It also governs the cohabitants with the beings that live in the water and has communication with these beings, especially dolphins, whales and crocodiles.
THIS DAY IS GOOD FOR
To calm the mind; the bad thoughts; to control the arrogance; to do away with desperation; to calm the instability; to ask to do away with the craziness in people; so that the couple may return to the home that they abandoned; to develop the intuition, the vision, the messages in the dream, so that the mind may be more receptive; to ask for the return of those that are far from their home; to do away with any mental problems; to ask that we may never lack nourishment and so that the confrontations in the family may cease.
PRONUNCIATION BY ELDER MARIANO XUTUMIL