AJPU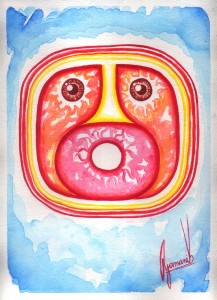 SIGNIFICANCE OF GLYPH
The glyph signifies the face of the hunter, with the beard and with the mouth rounded to indicate the shooting of the blowgun. The other side represents the blowgun itself.
THE DAY
This is a good day to obtain certainty, the security, to plan and to reach our goals. This is a day of renovation and to ask for the fecundity of the woman; to have emotional stability; and to increase the intellect. It is a day that gives the force, the valor and the energy to overcome all obstacles. It is the day to revive the very sick ones; for the protection of the agricultures; to be able to live in this world; to have the force to overcome all bad and all enemies; to not be ambushed by sadness; to decipher the future and the past and to ask that the fire of the Mayan ceremony may never go out. They are the great hunters, possessors of a great magic and fathers of the fine art. They are delicate and educators of this civilization.
THIS DAY IS GOOD FOR
To ask for the knowledge and the wisdom; a good day to focus and analyze life; to ask for health to the very sick ones; a day of their renovation; to ask security for the woman; ask for the certainty in our decisions; to ask for the strength to overcome the challenges that destiny holds for us. To be good planners; to ask for the strength to overcome the bad; to have the astuteness of the hunter; to overcome enemies that are presented to us; to overcome adversity; to have good eye sight and to fix illnesses of the eyes.
PRONUNCIATION BY ELDER MARIANO XUTUMIL