KAWOQ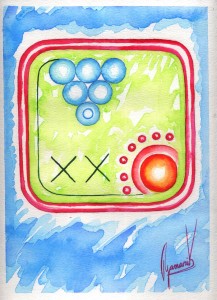 SIGNIFICANCE OF GLYPH
The glyph signifies the support of the world, represented in the sphere. It also represents a spermatozoid and its descendence (the genealogical tree).
THE DAY
This is a good day to as for the common good; for the family so that all familial confrontations may be fixed; the economic problems; to attract affluence and abundance in the business; and to ask for good climate for the crops and for all that is cultivated. It is also utilized to ask for humanity so that they may have a roof over their head; to ask for those that are about to be born and that they may not possess physical defects. It signifies the force of the union, the expansive knowledge; the development of the cosmic plan; the growth; the fertility; energy for the abundance in the material and in the spiritual. It is the energy that brings the rains to give us good crops.
THIS DAY IS GOOD FOR
This is a good day to ask for the family, community, especially the ones that are close to us. It is a good day to ask for our homes; good day to start a home; a good day to avoid difficulties between a family; to fix problems in the family; it is a good day to ask for those that are governing the nation so that they may be just and good governors; to ask that we may have a good relationship with our boss; to ask for justice and social consciousness; and to ask for those that have physical defects.
PRONUNCIATION BY ELDER MARIANO XUTUMIL