AJ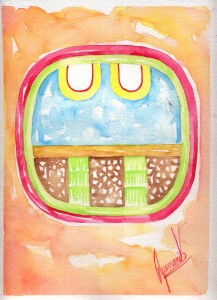 SIGNIFICANCE OF GLYPH
The vertical lines signify the superior stalks that don't reach the end. This represents the development of the spiritual process and the sacred interconnectedness. The horizontal line represents the multiplication and the horizon.
THE DAY
Aj symbolizes the corn field or the garden; everything that is related to the home and the family. It signifies abundance, unity, power the seven virtues (fire, water, air, earth, heart of the heavens, heart of the earth, the center) of the divine power; clairvoyance, sacred words; love to humanity; telepathy; signs in the body; unexpected dreams, knowledge of the sacred sex; development of the serpent of fire and power. Aj is a day for the protection of the home; for animals and plants; proportions good timing; it gives great fruits and harvest. Energy that brings the resurrection; the return to the home; Sign of life; re-establishment of nature; to harmonize with others. It is the triumph of life over death. The firmness and the conviction. It is the sign of communication. It is the pillar that connects the cosmic and telluric energy. It activates the forces that makes the heroic acts. It proportions leadership. It cultivates the knowledge of the human nature developed through communal work. Personifies integrity, honesty and strictness. It is the mother of confidentiality and the purity. It is characteristics of the cosmic expansion. It is the sign that embarks ethics, prudence and morality. It brings simplicity and the justice for the order of the existence and harmony of life. It is a sign of prestige and status. It brings the energy to excel and reach perfection in all acts.
THIS DAY IS GOOD TO:
Ask for protection for the home, the animals and the plants. It is a day to ask for the good timing and to ask for triumph over the negative. To ask for the resurrection of nature, for the purification of the environment, for the harmony, for our sacred space. To ask that our energies may be renewed. To ask that a person may comply with their obligations. To not have difficulties in gatherings. To give firmness to our purpose; So that others may understand and respect our path. It is a good day to ask that humanity may not be destroyed.
PRONUNCIATION BY ELDER MARIANO XUTUMIL