E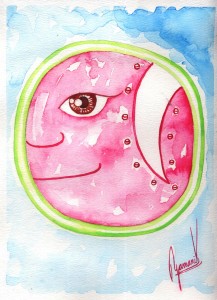 SIGNIFICANCE OF THE GLYPH
The glyph signifies: on the upper right side are the ears which signify the path; the curves and the points are the stones placed on the side of the path. It has as special characteristic that is always represented with a flat nose that represent the steps on a stairway.
THE DAY
The development of history is Bat'z and the finish is on Tz'i, but the one that gives force, energy and action for it to be realized is E. This is the best day to initiate or conduct any type of business. It is a special day to sign contracts as well as a very auspicious day for traveling, be it short or long. E symbolizes the path of destiny, which means more of the path than you are able to see with your eyes; because it is the path of life, the guide, the one that takes us to a precise objective point. It is the aspect in life where we find the realization in all situations, aspects and manifestations of life. E is the force, the potential and energy a person has to start a trip, a job, an assignment and everything that has to do with human realization. It is the one that indicates the middle, the form and the condition of the march of life. This sign is the energy of action and this energy acquires experiences opening paths. This is also a day to ask for the health, to initiate a project, to ask for those that live abroad or far from their homes.
THIS DAY IS GOOD FOR
It is a good day to ask for: Good business; So that life may give us a good path; To plan or initiate long travels; For the benefit of the community; To initiate a business; To ask that a pact may come to fruition; Contracts; Employment; So that it may give us a good spiritual path. Good day to ask for the ones living away from home or in other cities. To ask for Guidance about our destiny; So that new opportunities may open up. So that we may be free of accidents; so that we may be free of bad business dealings. To ask for good opportunities. Good day to be grateful for occupations, for work and for the well being of our physical and mental health.
PRONUNCIATION BY ELDER MARIANO XUTUMIL