8 Q'ANIL ~ Today's Ch'umil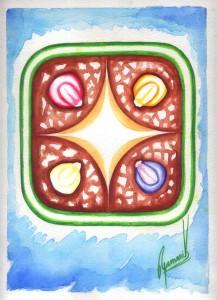 Q'anil projects an energy related to planning, to paying attention to your plans. The current trecena (thirteen days) creates a duality; an unbalance (uncontrolled actions) or a great intuition which reinforces this planning. Direct your thoughts and energy to the last.
8 Q'ANIL – Q'anil proyecta una energia relacionada a planificar, a poner atencion a tus planes, pues la presente trecena nos crea una dualidad; el desbalance (acciones descontroladas) o una gran intuición que apuntala esta planificación. Direcionate tus pensamientos y energía en esta ultima.

Carlos Barrios is a Mayan Ajq'ij, who originates from and resides in Guatemala. Carlos is the Coordinator of the Spiritual Reserves of Humanity for Central America and Coordinator of the Water Project for Central America for UNESCO.He has been given the mission by his elders to begin sharing the prophecies and teachings of the Mayan peoples with the rest of the world. Carlos travels internationally to share these teachings and to generate awareness and support for the rescue and preservation of the ancient Mayan tradition in his homeland. He is also the author of "The Book of Destiny", a book on the cosmology, Cholq'ij calendar and prophecies of the Mayan peoples.

Latest posts by Carlos Barrios (see all)