13 Aq'ab'al – Creation to Realization for Cholq'ij New Year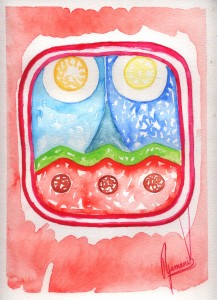 AQ'AB'AL is the first ray of light in the darkness. Let's imagine when everything was just space, when there was an emptiness of dark matter. Then a light emerges, breaking monotony. Creation begins to awaken and movement takes place. This is the energy of Aq'ab'al. Aq'ab'al is the dawn, it is the count of the days; the Ch'umil that connects us to the eternal present (past-present-future). It is a step towards the creation of the illusion/reality in that infinite Macro Spiral of the Najt (Space-Time). This goes from the macro to the micro; in the constant expansion of the Universe, in the Chipi Kakulja, the small ray that produces the neural synaptic interconnection. The purpose of this Ch'umil is to allow us to develop that connection, to delineate our own reality according to the cosmic creation. This energy brings a lot of opportunities. It brings unforeseen changes, but it also brings challenges. The light of Aq'ab'al leads us to other places, sometimes unknown, but it always protects us. Within this chain, which is a sequence of Creation, how the energies arrived to create reality, Aq'ab'al opens the opportunity to find light in the darkness, a light that will illuminate our path. Where are we headed? What level do we want to reach? To what dimension do we want to arrive?

Carlos Barrios is a Mayan Ajq'ij, who originates from and resides in Guatemala. Carlos is the Coordinator of the Spiritual Reserves of Humanity for Central America and Coordinator of the Water Project for Central America for UNESCO.He has been given the mission by his elders to begin sharing the prophecies and teachings of the Mayan peoples with the rest of the world. Carlos travels internationally to share these teachings and to generate awareness and support for the rescue and preservation of the ancient Mayan tradition in his homeland. He is also the author of "The Book of Destiny", a book on the cosmology, Cholq'ij calendar and prophecies of the Mayan peoples.

Latest posts by Carlos Barrios (see all)