WUQUB' TIJAX ~ Today's Ch'umil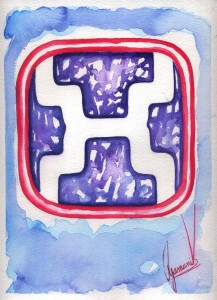 The confluence of energies that rule over this day open a space of great power. Number 7 is a force that allows us to close cycles in order to find balance and express all the potential that we possess within. Ajaw Tijax grants us the ability to cut away the negative, it is the energy of the lightning that brings revelations and uncovers the hidden knowledge. This Ch'umil gives us the power to open new paths and by converging with Ajaw E, who rules over this trecena (thirteen day cycle), it brings us the energy and wisdom to traverse them. The power that this day brings teaches us that when we put our focus on it, there are always new paths that open before us. 7 Tijax in E trecena invites us to let go of the old structures that we have learned so that we can experience life in a different way. Let us connect today with the force of obsidian, with the double-edged knife of Ajaw Tijax, to cut off any feelings of limitation and thus to be able to expand our spirit. Let us recognize ourselves as free beings, let us release all the restraints that do not allow us to travel our path of life in freedom.
La confluencia de energías que rigen sobre este día abren un espacio de mucho poder. El número 7 es una fuerza que nos permite cerrar ciclos para encontrar el balance y expresar todo el potencial que poseemos en nuestro interior. Ajaw Tijax nos otorga la habilidad de cortar con lo negativo, es la energía del relámpago que nos trae revelaciónes y nos muestra el conocimiento oculto. Este Ch'umil nos da el poder de abrir nuevos caminos y al converger con Ajaw E, quien rige sobre esta trecena, nos trae la energía y sabiduría para transitarlos. El poder que trae este día nos enseña que siempre hay nuevos caminos que se abren delante de nosotros cuando fijamos nuestra atención en ello. 7 Tijax en trecena de E nos invita a soltar las viejas estructuras aprendidas para experimentar la vida de una manera diferente. Conectemos hoy con la fuerza de la obsidiana, con el cuchillo de doble filo de Ajaw Tijax, para cortar cualquier sentimiento de limitación y poder así expandir nuestro espíritu. Reconozcámonos como seres libres, soltemos todas las ataduras que no nos permiten transitar nuestro sendero de vida en libertad.

Latest posts by Denise Barrios
(see all)