WAQIB' NO'J ~ Today's Ch'umil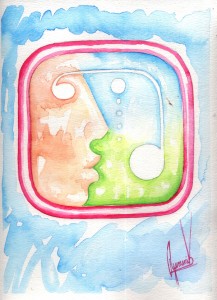 No'j is the deep and conscious thought that leads us to outline our reality, to create it according to what we must develop. This Ch'umil transforms our knowledge and experiences into wisdom, it is the force that gives us clarity. It is the deep knowledge of life, that knowledge which allows us to develop all our potentialities and connects us with the divine essence. Today Ajaw No'j converges with number 6, a force that can cause imbalance and complications if we are not balanced or certain of our actions. During this day we could have a tendency towards negative thoughts, let us be aware of this since we attract into our life that to which we give our energy, for the mind is a very powerful tool. Let us breathe, relax and let the signs that manifest in our life show us the direction to follow, let us remember that if our mind is at peace, if our soul experiences lightness, it guides us towards the perfect path. Today 6 No'j reminds us that all the knowledge we integrate into our lives we do because it is in harmony with our inner being. Let us be aware of what we allow to be a part of us, let us integrate the knowledge that allows us to find the freedom to express the essence of ourselves.
No'j es el pensamiento profundo y consciente que nos lleva a delinear nuestra realidad, a crearla acorde aquello que debemos desarrollar. Este Ch'umil transforma nuestros concimientos y experiencias en sabiduría, es la fuerza que nos otorga claridad. Es el conocimiento profundo de la vida, ese saber que nos permite desarrollar todas nuestras potencialidades y que nos conecta con la esencia divina. Hoy Ajaw No'j converge con el número 6, una fuerza que cuando no estamos en equilibrio o seguros de nuestras acciones puede provocar desbalance y complicaciones. Durante este día podríamos tener una tendencia hacia los pensamientos negativos, seamos conscientes de esto ya que atraemos a nuestra vida aquello a lo que le damos energía, pues nuestra mente es una herramienta muy poderosa. Respiremos, relajémonos y permitamos que las señales que se manifiestan en nuestra vida nos indiquen el rumbo a seguir, recordemos que si nuestra mente esta en paz, si nuestra alma está ligera, ella nos guía por el camino perfecto. Hoy 6 No'j nos recuerda que todo conocimiento que integramos a nuestra vida lo absorbemos porque está en armonía con nuestro ser interior. Seamos conscientes de aquello que permitimos que entre en nosotros, integremos los concimientos que nos permiten encontrar la libertad de ser en esencia nosotros mismos.

Latest posts by Denise Barrios
(see all)