WUQUB' NO'J ~ Today's Ch'umil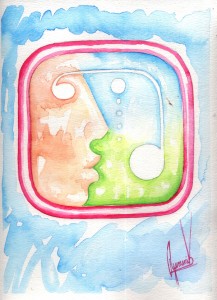 This day manifests the power contained by Wuqub' No'j, the Ch'umil of knowledge and wisdom. In the chain of creation, this energy is the one that brings forth the balance between the material reality and the magical reality. No'j is the power that integrates into our being each new learning, knowledge, and experience that arises from Ajamq so that we can transform them into wisdom. No'j has a rational part, the one that gives us logical thinking, but it also has a magical side that teaches us how to handle energies so that we have the power to create our reality.
Today we can work with a white candle and focus our attention on its flame, feeling how the power of the fire activates the power of our mind and gives strength to our intended thoughts, enhancing our gift of creativity.
En este día se manifiesta el saber contenido por Wuqub' No'j, el Ch'umil del conocimiento y la sabiduría. En la cadena de la creación esta energía es la que provoca el balance entre la realidad material y la realidad mágica. No'j es quien integra a nuestro ser cada nuevo aprendizaje, conocimiento y experiencia que surge de Ajamq para que podamos transformarlos en sabiduría. No'j posee una parte racional, esa que nos da el pensamiento lógico, pero trambién tiene un lado magico que nos enseña el manejo de las energías, que nos da el poder de crear nuestra realidad.
Hoy podemos trabajar con una vela blanca y enfocar nuestra atención en la llama, sintiendo como el poder de su fuego activa el poder de nuestra mente y da fuerza a nuestros pensamientos intencionados, potenciando nuestra don de la creatividad.

Latest posts by Denise Barrios
(see all)