WAQIB' AJMAQ ~ Today's Ch'umil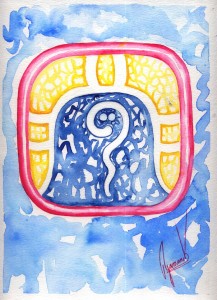 Today we receive the power and wisdom of Waqib' Ajmaq. In the chain of creation the energy that was manifested yesterday, Tz'ikin, brought us a deep vision of things, now, in Ajmaq a fog arises that limits this vision, that no longer allows us to see into the depths of space. But with it, a light also emerges to guide us. Ajmaq grants us the gift of curiosity, of discovering our purpose in life, of seeking the knowledge and experiences that enable the expansion of our being. It is the light of Ajmaq that impels us to develop, that guards for us the secret knowledge, the one that we can unveil when we awaken our consciousness, our vision.
Ajmaq also teaches us about forgiveness, it reminds us that being conscious of our actions, seeking outer and inner peace, and developing empathy and tolerance are important actions for our spiritual growth. Today we can light a purple candle to connect with the energy of Ajmaq, may its light allow us to unveil the deep wisdom that expands our mind, our being, may its compassion help us to overcome the ego, to forgive others and ourselves in order to reach harmony.
Hoy recibimos el poder y sabiduría de Waqib' Ajmaq. En la cadena de la creación la energía que se manifestó el día de ayer, Tz'ikin, nos trajo la visión profunda de las cosas. Hoy en Ajmaq surge una neblina que limita esta visión, que ya no nos permite ver a la profundidad del espacio, pero con ella emerge también una luz que nos guía. Ajmaq nos da el don de la curiosidad, de descubrir nuestro propósito en la vida, de buscar el conocimiento y las experiencias que permiten la expansión de nuestro ser. Es la luz de Ajmaq la que nos impulsa a desarrollarnos, la que guarda para nosotros los conocimientos secretos, esos que podemos desvelar cuando despertamos nuestra conciencia, nuestra visión.
Ajmaq también nos enseña acerca del perdón, nos recuerda que el ser conscientes de nuestros actos, que buscar la paz exterior e interior y desarrollar la empatía y la tolerancia son acciones importantes para nuestro crecimiento espiritual. Hoy podemos encender una vela morada para conectar con la energía de Ajmaq, que su luz nos permita desvelar la sabiduría profunda que expande nuestra mente, nuestro ser, que su compasión nos ayude a vencer el ego, a perdonar y perdonarnos para alcanzar la armonía.

Latest posts by Denise Barrios
(see all)