OXIB' TZ'I' ~ Today's Ch'umil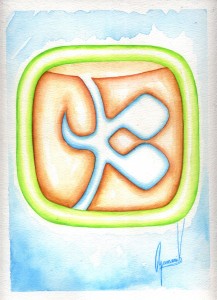 Ajaw Tz'i is the energy that impels us to walk the right path; today its wisdom emerges to remind us that life is perfect, that we have all been born under the star or Ch'umil that will enable us to grow, that the conditions of our life are precisely the ones we need to fulfill our evolutionary mission. So let us not use our circumstances as an excuse for not growing, but as stepping stones for our expansion. The trecena reminds us that we are the gardeners of our existence, our magic and power is in having the freedom to sow in our life what we want to harvest. Let us have that awareness.
Ajaw Tz'i es la energía que nos impele a transitar el camino correcto; hoy su sabiduría surge para recordarnos que la vida es perfecta, que cada uno de nosotros ha nacido bajo la estrella o Ch'umil que favorece nuestro crecimiento, que la condiciones de nuestra vida son justo las que necesitamos para cumplir con nuestra misión evolutiva. No usemos entonces nuestras circunstancias como una excusa para no crecer, sino como peldaños para nuestra expansión. La trecena nos recuerda que somos los jardineros de nuestra existencia, nuestra magia y poder está en tener la libertad de sembrar en nuestra vida aquello que queremos cosechar. Tengamos esa conciencia.

Latest posts by Denise Barrios
(see all)