KEB' TOJ ~ Today's Ch'umil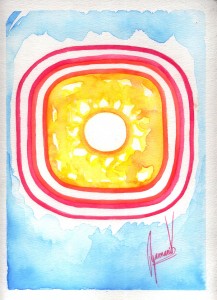 Fire is one of the most beautiful and powerful elements we have on the path of spiritual development. Its strength is the one that allows us to transmute states and situations, it harmonizes us and brings us healing. Its light gives warmth and life; it illuminates our inner being so that we can find ourselves. Its power connects us to the Supreme energies and it is he who preserves and transmits the wisdom that the grandfathers and grandmothers have bequeathed to him throughout time. This is the element that we light as an act of gratitude for what life gifts us. Let us receive on this day of Ajaw Keb' Toj, the day of the Sacred Fire, the wisdom and power that this element brings us. In this trecena of Q'anil let us light this Sacred Fire as a seed of love and gratefulness for life, let us take a moment to reflect on how fortunate we are, and learn from these energies to experience life through gratitude and love.
El fuego es uno de los elementos más hermosos y poderosos que tenemos en el camino del desarrollo espiritual. Su fuerza es la que nos permite transmutar estados y situaciones, nos armoniza y nos trae sanación. Su luz nos da calor y vida; ilumina nuestro ser interior para que podamos encontrarnos. Su poder nos conecta con las energías Supremas y es él quien guarda y transmite la sabiduría que los abuelos y abuelas le han legado a lo largo del tiempo. Este es el elemento que encendemos como un acto de agradecimiento por lo que nos regala la vida. Recibamos en este día de Ajaw Keb' Toj, el día del Fuego Sagrado, la sabiduría y poder que este elemento nos trae. En esta trecena de Q'anil prendamos ese Fuego Sagrado como una semilla de amor y agradecimiento por la vida, dediquemos un momento a reflexionar sobre lo afortunados que somos, aprendamos de estas energías a experimentar la vida desde la gratitud y el amor.

Latest posts by Denise Barrios
(see all)