January/February MAYAN SPIRITUAL RETREAT IN GUATEMALA
Denise Barrios will be leading a spiritual retreat in Guatemala from January 27 to February 5th.  This will be an incredible adventure and immersion in Maya spirituality in the homeland of the tradition, experienced with incredible guides and with many sacred teachings, ceremonies and places. As always, these programs continue to provide direct support to the lineages and communities that we are able to experience. Please see the attached document for more details. Please contact us to ask questions, learn more, and book your space: +502 30975131 – IG: @maya.ukux | @andyrocca
MAYAN SPIRITUAL RETREAT IN GUATEMALA
Following the footsteps of the ancestral elders, we will immerse in a ten-day transformational journey during which we will focus on ourselves, being beautifully led by wise and healing spiritual guides who will support us in our process of transformation and development.
This journey through the Heart of the Mayan world will be traveled in synchrony with the energies of the Sacred Calendar, as our intention is to share with you from a place of authenticity the profound wisdom of our ancestors so that it may lead you to enter into deep contact with your being and to harmonize yourself in an integral way —physical, mental, emotional, and spiritual,— using the energies that are available as the tool that helps you find your healing, transformation, connection, and the awakening of your power.
This retreat will begin on the day of Jun (1) Toj in the Sacred Mayan Calendar. The energy of Toj will open a 13-day cycle of healing and transformation that, together with the other energies that influence each day, will guide and help us during the days that we will be traversing through its energy our processes of healing and transformation. With this purpose in our hearts, we will walk together with different Mayan spiritual guides, Tatas and Nanas, who will accompany our journey with their ancestral medicine of the temazcal (Mayan sweat lodge), tobacco, massages, meditations, ceremonies, cacao, and other different practices. Andy Rocca and Denise Barrios, who will be your guides throughout the trip, have been walking the Maya and ancestral paths for many years and through their own personal healing and transformation processes, they have outlined a journey that will also bring you to powerful energetic places, sacred altars, and to meet great wise men and women, heirs to the ancestral wisdom of the Mayas.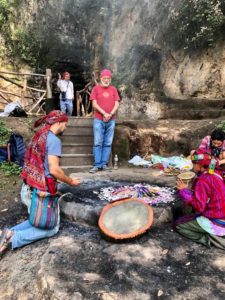 Our invitation is for you to embark on this ancestral life-changing experience charged with lots of medicine, gifting yourself a time of connection with your soul while being guided and accompanied in your process by the wise Mayan people of Guatemala, the Heart of the Mayan World.
Please contact us to ask questions, learn more, and book your space: +502 30975131 – IG: @maya.ukux | @andyroccas
Journey to the transformation of the self 2022

Latest posts by Adam Rubel
(see all)