September Workshops with Denise Barrios in McCall, Idaho
This is a tremendous opportunity to spend time in person with the wonderful Denise Barrios for a pair of weekend workshops in the US.  Denise will be sharing profound teachings from the Maya lineages she has been immersed in all her life.  Set in a beautiful location, these workshops are an opportunity to deepen your connection to the tradition and to experience the healing energies and power of ceremonies and practices.  As always, these programs continue to provide direct support to the lineages and communities that we are able to experience.
Please contact us to ask questions, learn more, and make your reservation: blakesherlock@yahoo.com | +1 203 524 8556
TWO WEEKENDS OF WORKSHOPS IN MCCALL, IDAHO
September 9-11: Igniting your Inner Fire
In this three-day workshop, we will dive into an exploration of the twenty Sacred Energies of the Mayan Calendar, called Ch'umil. We will work with our personal energy and will interact with the other energies through meditation, the Sacred Fire, our creativity, and through our interaction with Mother Earth and each other.  We'll also introduce you to the Mayan worldview and deities, sharing their stories. We will speak about the power of the fire ceremony, the history behind the materials used, and how to collect them. We will incorporate the natural world around us as our classroom, and provide opportunities for you to use your artistic creativity.
September 16-18: Opening the Portals of Energy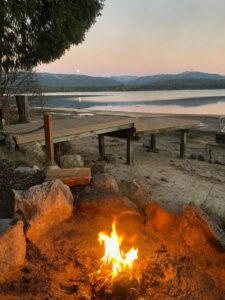 In this three-day workshop, we will explore the way in which the twenty energies of the Mayan Sacred Calendar, Cholq'ij, manifest and affect the twenty portals of energy in our body. We will learn techniques for unblocking our energy to facilitate health and wellbeing. We'll learn about the use of crystals (if you have some of your own, please feel free to bring them with you!) We will also explore the unique map of energies in our body so that they help our processes of healing. At the end of the workshop, we will make an offering of gratefulness through a Sacred Fire Ceremony in which we will ask for the sacred, ancient energies of the Cholq'ij to open up our paths in life, to bring healing, balance, and harmony to our lives.
Denise is an Ajq'ij, timekeeper and Mayan Spiritual Guide, and the author of  "The Mayan Count of the Days", a Journal of the Energies of the Sacred Cholq'ij Calendar. Denise is the daughter of Carlos Barrios and was his translator for many years when he visited the US to share the Mayan worldview and the wisdom of the sacred calendar. Through her father, Denise met Blake Sherlock, an amazing human being and artist. The three of them became great friends. Denise and Blake have traversed together not only the death of her father, but the rebirth of their spirituality, they have been fortunate to be able to accompany each other on their individual spiritual paths and for the last two years they have been able to travel in Guatemala together to meet with elders, to gather more learnings, and share around the offering of Sacred Fire.
Workshop and Activity schedule each weekend:
Friday 5-9 pm
Saturday 9 am–4 pm
Sunday 9 am–1 pm
All activities take place at Blake's family home on Lake Payette in McCall. Blake's home is nestled amongst giant Ponderosas, Douglas Fir, and Tamarack trees. There's lots of nice walking and hiking, and you can swim in the lake. There are some hot springs nearby and plenty of outdoor activities nearby should you decide to make a longer trip out of it. There will be time for exploring on your own and eating out in McCall as well. We will also be available for private sessions on Maya Chart Readings and Energy Unblocking.
Please contact us to ask questions, learn more, and make your reservation: blakesherlock@yahoo.com | +1 203 524 8556

Latest posts by Adam Rubel
(see all)