LAJUJ E ~ Today's Ch'umil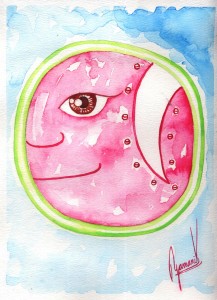 E is the energy and means by which we travel our roads in life. Its wisdom sets the perfect conditions for our journey in this existence and provides us with the power to accomplish the mission for which we are born. E is our Saq' B'e, our spiritual path. Number Lajuj -10- is an energy that reminds us that we must flow with life, that if something happens it is because it is beneficial for us.
Let us remember that everything that happens in our life opens a special journey for us. That when we allow ourselves to walk and flow with life, honoring each of our steps in this existence, we create the conditions that allow us to change and grow, we open the space for our development.
Our path is our magic, we can create through it.
E es la energía con la que recorremos nuestros caminos en la vida, su sabiduría establece las condiciones perfectas para nuestro viaje a través de esta existencia y nos proporciona el poder para cumplir la misión para la cual hemos nacido. E es nuestro Saq' B'e, nuestro camino espiritual. El número Lajuj -10- es una energía que nos recuerda que debemos fluir con la vida, que si algo sucede es porque es bueno para nosotros.
Recordemos que cada cosa que sucede en nuestra vida abre un recorrido especial para nosotros. Que cuando nos permitimos caminar y fluir con la vida, honrando cada uno de nuestros pasos por la existencia, creamos las condiciones que nos permiten cambiar y crecer, abrimos el espacio a nuestro desarrollo.
Nuestro camino es nuestra magia, podemos crear por medio de él.

Latest posts by Denise Barrios
(see all)