B'ELEJEB' B'ATZ' ~ Today's Ch'umil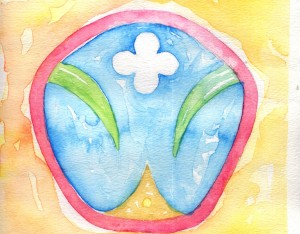 The Maya world gives much importance to the balance of the energies, to the complementarity and equilibrium of life. Today, forty days after celebrating the beginning of a new Cholq'ij cycle in Wajxaqib' -8- B'atz', day in which the energies of the physical/material plane, of the male energy, are manifested, we arrive to B'elejeb' -9- B'atz', the complement of the female energy, of the subtlest essence. This celebration marks a balance between the material and the spiritual, between the female and the male.
This day brings many elements of the female energy and it opens powerful spaces that connect us to our creative side, to our intuition, to the kindness and love that vibrate within us and which allow us to develop a high level of spirituality. Let us connect today through a candle, in ceremony or in prayer or meditation to the powerful force of B'elejeb' B'atz'. Let us thank the energy of this day for all the knowledge and subtleness it brings to our lives, let us ask that we may connect with the power of our sacred female, that we may develop our sensitivity, our creative ability and that we may reach the balance and completeness that are so essential for life.
Happy B'elejeb' B'atz' 💛🧵🔥
El mundo Maya da mucha importancia al balance de las energías, a la complementariedad y equilibrio de la vida. Hoy, cuarenta días después de haber celebrado el inicio de un nuevo ciclo Cholq'ij en Wajxaqib' -8. B'atz', día en que se manifiestan las energías del plano físico/material, de lo masculino, arribamos a B'elejeb' -9- B'atz', el complemento de la energía femenina, de la esencia más sutil. Esta celebración marca un balance entre lo material y lo espiritual, entre lo femenino y lo masculino.
Este día trae consigo muchos elementos de la energía femenina y abre poderosos espacios que nos conectan a nuestro lado creativo, a la intuición, a la bondad y amor que vibran en nuestro ser y que nos permiten desarrollar un alto nivel espiritual. Conectemos hoy por medio de una vela, en ceremonia, en rezo o meditación con la poderosa fuerza de B'elejeb' B'atz'. Agradezcamos a la energía de este día por todo el conocimiento y sutileza que brinda a nuestra vida, pidamos que podamos conectar con el poder de nuestro sagrado femenino, que desarrollemos nuestra sensibilidad, nuestra capacidad creativa y que alcancemos el equilibrio y completitud que son tan esenciales para la vida.
Feliz B'elejeb' B'atz' 💛🧵🔥

Latest posts by Denise Barrios
(see all)