LAJUJ AQ'AB'AL ~ Today's Ch'umil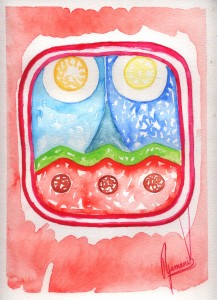 Aq'ab'al manifests polarity, it is the energy that connects us with our light and it is also darkness, that manifestation which is an essential part of our being. Its energy brings the occult knowledge, that holds the secrets of creation. The power of this Ch'umil arises from the harmonization of light and darkness. Let us connect to its strength and open the space to the light that makes the invisible visible, let us honor our inner light and discover ourselves in our darkness. Today the energies teach us to see everything with a new vision, to begin again with a renewed perspective, to find and manifest our true being.
Aq'ab'al manifiesta la polaridad, es la energía que nos conecta con nuestra luz y es también la oscuridad, esa manifestación que es una parte esencial de nuestro ser, esa energía que trae el conocimiento oculto, que guarda los secretos de la creación. El poder de este Ch'umil surge de la armonización de la luz y la oscuridad. Conectémonos a su fuerza y abramos espacio a esa luz que hace visible lo invisible, honremos nuestra luz interior y descubrámonos en nuestra oscuridad. Hoy las energías nos enseñan a ver todo con una nueva visión, a reiniciar con una perspectiva renovada, a encontrar y manifestar nuestro verdadero ser.

Latest posts by Denise Barrios
(see all)