KAB'LAJUJ AJMAQ ~ Today's Ch'umil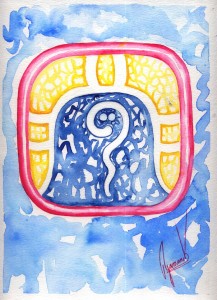 We cannot stay stuck in our past, pondering how we could have done things differently or constantly blaming ourselves for our mistakes. What we have done is behind us and we cannot go back in time to change it. Let us free ourselves from everything that does not serve us, thoughts, emotions and actions that do not allow us to move forward in our physical, mental, emotional and spiritual world. Let us take the learning that our mistakes brought, let us create a different way of doing things, continuing to move forward on the path, continuing to grow and develop.
This is a good day to heal relationships with our family, our friends, and with our own selves. It is a day to ask for forgiveness, to forgive ourselves and others. We can light a purple candle and ask the energies for their transmuting power to help us transform any negative feelings. Let us remember that in order to achieve inner harmony, freedom, and spiritual evolution we must have the awareness to correct what affects us.
No podemos quedarnos estancados en nuestro pasado, pensando en cómo pudimos haber hecho las cosas de manera diferente o culpándonos constantemente por nuestros errores. Aquello que hicimos quedó atrás y no podemos volver el tiempo para cambiarlo. Liberémonos de todo lo que no nos sirve, pensamientos, emociones y acciones que no nos permiten avanzar en nuestro mundo físico, mental, emocional y espiritual. Tomemos el aprendizaje que trajeron nuestros errores, creemos una forma distinta de hacer las cosas, continuemos avanzando en el camino, continuemos creciendo y desarrollando.
Este es un buen día para sanar las relaciones con la familia, con los amigos y con nosotros mismos. Un día para pedir perdón, perdonar y perdonarnos. Podemos encender una vela morada y pedir a las energías que su poder transmutador nos ayude a transformar cualquier sentimiento negativo. Recordemos que para alcanzar la armonía interior, la libertad y la evolución espiritual debemos tener la conciencia de corregir lo que nos afecta.

Latest posts by Denise Barrios
(see all)