OXLAJUJ NO'J ~ Today's Ch'umil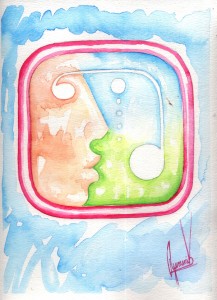 Let us remember that knowledge is not only found in books, we acquire wisdom through every step we take, from every being that comes into our lives, from our relationship with the elements of the earth, with the energies, from our interaction with all that surrounds us. This day reminds us of the importance of feeling every moment, of marveling at the simple things in life, opening ourselves to learn from them. We are transiting a trecena that impels us to take action, that reminds us that it is by doing, by daring to create and experience, that we grow, that we transform our knowledge into wisdom.
This is the last day of a trecena that opened spaces for our transformation and growth, for elevating our being to higher levels. Let us take a moment today not only to thank the energy of Kan, but to meditate, to gather and integrate the knowledge we acquired in the last thirteen days.
Recordemos que el conocimiento no lo encontramos solo en los libros, vamos adquiriendo sabiduría con cada paso que damos, de cada ser que entra a nuestra vida, de nuestra relación con los elementos de la tierra, con las energías, en el interactuar que tenemos con todo lo que nos rodea. Este día nos recuerda la importancia de experimentar cada momento, de maravillarnos de las cosas simples de la vida, abriéndonos a aprender de ellas. Estamos transitando una trecena que nos impulsa a tomar acción, que nos recuerda que es en el hacer, en el atrevernos a crear y experimentar, que vamos creciendo, transfromando nuestros conocimientos en sabidurías.
Este es el último día de una trecena que abrio espacios para nuestra transformación y crecimiento, para elevar nuestro ser a niveles superiores. Tomemos hoy un momento no solo para agradecer a la energía de Kan, sino para meditar, para recoger e integrar el conocimiento que adquirimos en los pasados trece días.

Latest posts by Denise Barrios
(see all)