JUN IMOX ~ Today's Ch'umil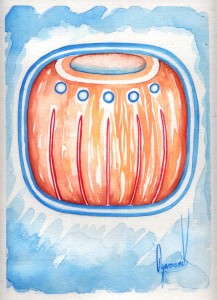 When we decide to break our existing patterns without fear of judgment or the expectations that others have of us, we enter a void in which we often don't know what will happen and this can cause some discomfort, the kind that emerges when we are opening ourselves to something new, to make changes where changes need to be made. On this day, the energy of the Imox trecena reminds us that the discomfort that comes from doing things differently is not necessarily bad, as it brings us a path to our growth, a broader and deeper picture of life that allows us to connect with our emotions in order to reveal new layers of our being and live from a place of choice and awareness.
Cuando decidimos romper nuestros patrones acutales sin miedo al juicio o a las expectativas que los demás tienen de nosotros, saltamos a un vacío en el que a menudo no sabemos que va a suceder y esto puede crear cierta incomodidad, esa que emerge cuando nos estamos abriendo a algo nuevo, a hacer cambios donde hay que hacerlos. Hoy la energía de la trecena de Imox nos recuerda que la incomodidad que surge de hacer las cosas de manera distinta no es necesariamente mala, pues trae consigo el camino hacia nuestro crecimiento, a tener una imagen mas amplia y profunda de la vida que nos permite conectar con nuestras emociones para desvelar nuevas capas de nuestro ser y vivir nuestra vida desde la elección y la consciencia.

Latest posts by Denise Barrios
(see all)