OXLAJUJ AJPU ~ Today's Ch'umil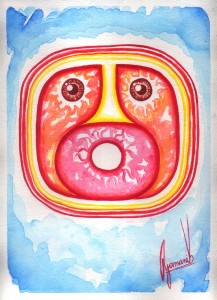 Today's energies remind us that each day is unique and it will never be repeated. That with each dawn, we are gifted with the opportunity to experience life and discover ourselves. Let us appreciate each moment and each cycle, let us be present and never forget that we are constantly creating who we are, so instead of waiting to see how our day will unfold, let us design the day we want to have, the life experience we want to live.
Today we thank Q'anil for all the seeds we planted, for everything that sprouted and flourished during the 13 days in which we vibrated in synchrony with its energy. Maltyox Ajaw Q'anil for the trecena that is ending today.
Hoy la energía nos recuerda que cada día es único, no volverá a repetirse jamás. Que con cada amanecer se nos regala la oportunidad de experimentar la vida y descubrirnos en el proceso. Apreciemos cada momento y cada ciclo, estemos presentes y tengamos en cuenta que constantemente estamos creando quienes somos, así que no esperemos a ver cómo va a ser nuestro día, más bien creemos el día que queremos tener, diseñemos la experiencia de vida que queremos vivir.
Hoy agradecemos a Q'anil por todas las semillas que hemos sembrado, por todo aquello que ha brotado y florecido durante estos 13 días que vibramos en sincronía con su energía. Maltyox Ajaw Q'anil por esta trecena que hoy finaliza.

Latest posts by Denise Barrios
(see all)