JOB' Q'ANIL ~ Today's Ch'umil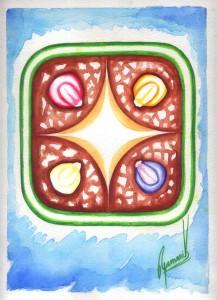 Everything that begins arises from the energy of Q'anil, the seed. We ourselves are a seed planted by our parents, the creation is a seed that was planted in the cosmos, our future is determined by the seeds we sow today, and our reality is created through the seeds we plant in our thoughts. This is the wonderful power of Q'anil, that of giving life, of being the seed that contains everything it needs to sprout and flourish. Depending on what we plant, on the love and dedication we put in caring for it, so will be the fruits we will reap in life Today we can offer a green candle. While it burns let us take a moment to nurture the seed of consciousness we have planted in our being, to project what we want for our life. Let us use this day to share, to plant in others so that we spread those positive seeds that flourish within us.
Todo lo que inicia surge de la energía de Q'anil, la semilla. Nosotros somos semillas que plantaron nuestros padres, la creación es una semilla que fue plantada en el cosmos, nuestro futuro está determinado por las semillas que sembramos hoy y nuestra realidad se crea a través de las semillas que plantamos en nuestro pensamiento, ese es el maravilloso poder de Q'anil, el de dar vida, el de ser la semilla que contiene todo lo que necesita para brotar y florecer. Dependiendo de qué plantemos, del amor y dedicación que pongamos al cuidarlo, así son los frutos que recogeremos en la vida. Ofrendemos hoy una vela verde, mientras esta se consume tomemos un momento para nutrir la semilla de consciencia que hemos plantado en nuestro ser, para proyectar aquello que queremos para nuestra vida. Usemos este día para compartir, plantemos en los demás para propagar esas semillas positivas que florecen dentro de nosotros.

Latest posts by Denise Barrios
(see all)