OXIB' KAME ~ Today's Ch'umil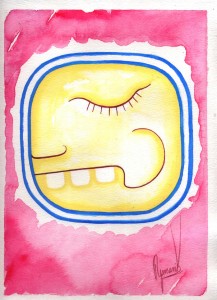 Kame signifies death, but it is not only physical death, it is every transition. Its energy reminds us that life is conformed by different cycles that shape us, that our evolution is not linear and that experiences return, not in the same form, but in a similar way and according to the energies of that moment. That if we pay attention to the events of life we can understand our evolutionary process and foresee each of these cycles. Kame is also the dimensional spaces in which we continue our evolution as spiritual beings; its energy communicates us with the grandmothers and grandfathers that reside in those spaces. Today we can offer a black or purple candle to open the communication with the wisdom of our ancestors, so that we can connect with them and do the important work of healing what they could not heal, of advancing on that sacred path of learning, the path of our family lineage.
Kame es la muerte, pero no es solo la muerte física, es toda transición. Su energía nos recuerda que la vida está conformada por distintos ciclos que nos van formando, que la evolución no es una línea recta y las experiencias vuelven, no de la misma manera, pero de forma similar y acorde a las energías del momento. Que si prestamos atención a los eventos de la vida podremos comprender nuestro proceso evolutivo y prever cada uno de estos ciclos. Kame es también los espacios dimensionales en los que continuamos nuestra evolución como seres espirituales; su energía nos comunica con los abuelos y abuelas que habitan esos espacios. Hoy podemos ofrendar una vela negra o morada para que se abra la comunicación con la sabiduría de nuestros ancestros, para que podamos conectar con ellos y hacer el tan importante trabajo de sanar lo que ellos no pudieron, de avanzar en ese camino sagrado del aprendizaje que proviene de nuestro linaje familiar.

Latest posts by Denise Barrios
(see all)