B'ELEJEB' IMOX ~ Today's Ch'umil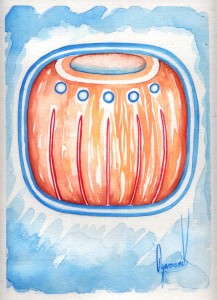 One of the most important teachings that Imox gives us is that of learning to flow with life, for our pain or frustration are often not the result of the changes we experience, but of the resistance that we have towards them.
Let us trust in the flow of existence, having the certainty that everything that happens is perfect for the development of our being. That although we may not always be able to see it, the universe is always on our side and it removes from our path everything that does not contribute or benefit our purpose. Let us not remain stagnant, let us receive the wisdom of water which is always ready to seek and open new paths through which it can flow.
Una de las enseñanzas más importantes que nos regala Imox es la de aprender a fluir con la vida, pues nuestro dolor o frustración usualmente no surgen de los cambios que experimentamos, sino de la resistencia que ponemos a ellos.
Confiemos en el fluir de la existencia, sabiendo que todo lo que pasa es lo perfecto para el desarrollo de nuestro ser. Que aunque no podamos verlo en el momento, el universo siempre está de nuestro lado y retira de nuestro camino todo lo que no aporta o beneficia nuestro propósito. No nos quedemos estancados, recibamos la sabiduría del agua que siempre está dispuesta a buscar y abrir nuevos caminos por los que fluir.

Latest posts by Denise Barrios
(see all)