8 KAN ~ Today's Ch'umil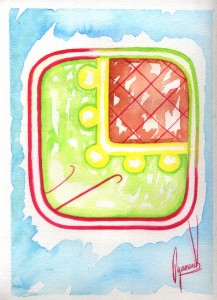 Today we are ruled by Ajaw 8 Kan, which is symbolized by the snake, it is the serpentine movement that gives us mobility. Kan is the energy of action, it is the Ch'umil that activates us, it is the energetic movement, the sexual energy and the force of life. It is our energy, the energy of the cosmos, and the telluric energy. It is the energetic transmutation which after freeing us, it allows us to elevate ourselves to other levles of awareness; it is the physical and spiritual evolution. This day brings a great power, for today number 8, which symbolizes the strength of the material world, the physical energy, and the male manifestation, comes together with Kan and together they grant us the energy and power we need to carry out what we want. The day gives us the elements, it is all in the determination we have to accomplish our purposes. Remember that the energy of Kan resides in the Coccyx and it moves throughout our spine activating our energy centers. This is a day full of energy, use it to connect to your body, to move the energy that resides within you, to activate yourself, and to connect through every movement to your power and to your inner strength.
Hoy nos rige Ajaw 8 Kan, que está simbolizado por la serpiente, por el moviemiento serpentino que nos da movilidad. Kan es la energía de la acción, es el Ch'umil que nos activa, es el movimiento energético, la energía sexual y la fuerza de la vida. Es nuestra energía, la energía del cosmos y la energía telúrica. Es la transmutación energética que al liberarnos nos permite elevarnos a otros niveles de conciencia, es la evolución física y espiritual. Este día trae mucha potencia, pues hoy el número 8, que simboliza la fuerza del mundo material, la energía física y la manifestación masculina, confluye con Kan y juntos nos conceden la energía y el poder necesarios para realizar lo que deseemos, el día nos da los elementos, todo está en la determinación que tengamos para alcanzar nuestros propósitos. Recordemos que la energía de Kan reside en el coxis y se mueve por nuestra columna vertebral activando nuestros centros energéticos. Este es un día lleno de energía, utilízalo para conectarte con tu cuerpo, para mover la energía que reside dentro de tí, para activarte y para conectarte a través de cada movimiento con tu poder y con tu fuerza interna.

Latest posts by Denise Barrios
(see all)