9 KAME ~ Today's Ch'umil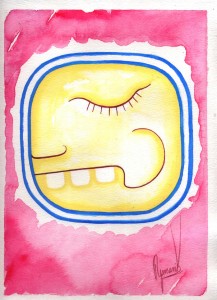 Ajaw 9 Kame is the transition between life and death. It is the teachings and experiences that our spirit acquires throughout this life, that wisdom that transcends our physical body and which accompanies us throughout our evolution as spiritual beings. Kame is the energy of the cycles of life, it is change and transformation. Let's remember that death does not represent an end, it is rather a transformation, an evolution towards our spiritual state. All that exists in this reality is a spirit, and we as spiritual beings must learn to connect to the spirit of creation, to the spirit of Mother Earth, to the elements, to everything that surrounds us. We must learn to appreciate the spirit of everything, to understand that all is a part of us, of our evolution during the time we inhabit Mother Earth. Let's take advantage of every cycle, of every stage, of every moment; for our passage through this reality is ephemeral. Today we can offer a purple candle to connect to the spiritual beings and to honor and remember our ancestors.
Ajaw 9 Kame es la transición entre la vida y la muerte. Es el aprendizaje y experiencia que adquiere nuestro espíritu durante esta vida, esa sabiduría que trasciende nuestro cuerpo físico y que nos acompaña a lo largo de nuestra evolución como seres espirituales. Kame es la energía de los ciclos de la vida, es los cambios y la transformación; recordemos que la muerte no representa un final, es más bien una transformación, una evolución hacia nuestro estado espiritual. Todo lo que existe en esta realidad es un espíritu, y nosotros como seres espirituales debemos aprender a conectarnos con el espíritu de la creación, con el espíritu de la Madre Tierra, con los elementos, con todo lo que nos rodea. Debemos aprender a apreciar el espíritu de todo, a comprender que todo es parte de nosotros, de nuestra evolución durante el tiempo que habitamos en la Madre Tierra. Aprovechemos cada ciclo, cada etapa, cada momento, pues nuestro paso por esta realidad es efímero. Hoy podemos ofrendar una vela morada para conectar con los seres espirituales, para honrar y recordar a nuestros ancestros.

Latest posts by Denise Barrios
(see all)