4 NO'J ~ Today's Ch'umil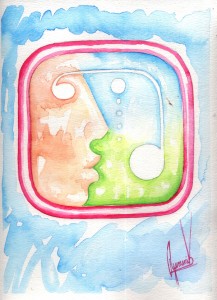 On this first day of the month Wayeb 'governs us by the energy of Ajaw 4 No'j, which symbolizes the true and deep understanding of things, it is the Ch'umil that causes the knowledge we possess to become wisdom. Its power manifests peace, balance and harmony. During this day we are in connection with the force of the four corners of the world and its elements, with the power and wisdom that they project. The Mayan tradition speaks of the five days of the Wayeb 'as a ceremonial time, a moment of purification and renewal, of reencounter with our intern. It is a time of introspection and reflection in which we recognize our actions, we see where they have led us. It is a space in which we forgive and cleanse our being both physically / materially, as well as intellectually, emotionally and spiritually, in which we channel our energy towards achieving our development and fulfilling our purposes. This Wayeb 'falls into the recipe of I'x that connects us with the force of nature, with sacred knowledge, with magic and sensitivity, its energy brings feline power and puts us in contact with our feminine side. Today, which is the first day of this ceremonial time, let's dedicate a moment to introspection, to cleanse our being of guilt, fear, resentment and everything that stagnates our growth, so that we begin this new cycle in balance and harmonized with ourselves and with what surrounds us. The energies of this day allow us to find peace, balance and harmony, they give us the ability to understand our experiences and project ourselves towards the purpose of our existence.
En este primer día del mes Wayeb' nos rige la energía de Ajaw 4 No'j, que simboliza el verdadero y profundo entendimiento de las cosas, es la Ch'umil que provoca que el conocimiento que poseemos se convierta en sabiduría. Su poder manifiesta la paz, el balance y la armonía. Durante este día estamos en conexión con la fuerza de las cuatro esquinas del mundo y sus elementos, con el poder y sabiduría que estos proyectan. La tradición Maya habla de los cinco días del Wayeb' como un tiempo ceremonial, un momento de purificación y renovación, de reencuentro con nuestro interno. Es un tiempo de introspección y reflexión en el que reconocemos nuestras acciones, vemos hacia dónde estas nos han llevado. Es un espacio en el que perdonamos y limpiamos nuestro ser tanto en el aspecto físico/material, como en lo intelectual, emocional y espiritual, en el que encauzamos nuestra energía hacia alcanzar nuestro desarrollo y cumplir nuestros propósitos. Este Wayeb' cae en la recena de I'x que nos conecta con la fuerza de la naturaleza, con el saber sagrado, con la magia y la sensibilidad, su energía trae el poder felino y nos pone en contacto con nuestro lado femenino. Hoy que es el primer día de este tiempo ceremonial dediquemos un momento a la introspección, a limpiar nuestro ser de culpas, miedos, resentimientos y de todo aquello que estanque nuestro crecimiento, para que comencemos este nuevo ciclo en balance y armonizados con nosotros mismos y con lo que nos rodea. Las energías de este día nos permiten encontrar la paz, el equilibrio y la armonía, nos dan la capacidad de comprender nuestras experiencias y proyectarnos hacia el propósito de nuestra existencia.

Latest posts by Denise Barrios
(see all)