3 AJMAQ ~ Today's Ch'umil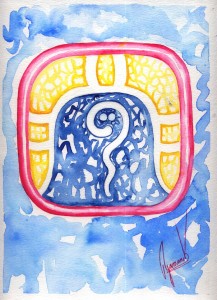 Ajaw Ajmaq is the power that drives us in the search for knowledge, for those experiences that allow us to achieve development. Ajmaq is going back to our inner being to find freedom within ourselves. On the days that are ruled by this energy the great sages share their teachings to contribute to the expansion of knowledge. This Ch'umil symbolizes ancestral wisdom, it connects us to the supreme teachers, those who reside in other levels. When this energy converges with number 3, which is a power that allows us to create through our actions, a space is opened to new experiences, to develop our curiosity in order to acquire new learnings, to act so that we can obtain results. The energies of this day tell us that we must open our hearts and our vision to see beyond the obvious, to capture the learnings that arise from ancestral wisdom, from our inner being and from our connection to everything. This is a day to reflect on our actions and their consequences, to question ourselves and delve into the purpose and direction of our life.
Ajaw Ajmaq es el poder que nos impulsa en la búsqueda del conocimiento, en la búsqueda de esas experiencias que nos permiten alcanzar el desarrollo. Ajmaq es el regresar a nuestro interior para encontrar la libertad en nosotros mismos. Durante los días regidos por esta energía los grandes sabios comparten sus enseñanzas para aportar a la expansión del conocimiento. Este Ch'umil simboliza la sabiduría ancestral, nos conecta a los maestros supremos, esos que residen en otras estancias. Al converger con el número 3, que es un poder que nos permite crear a través de nuestras acciones, se abre espacio a las nuevas experiencias, a desarrollar nuestra curiosidad para adquirir nuevos aprendizajes, a accionar para obtener resultados. Las energías de este día nos indican que debemos abrir nuestro corazón y nuestra visión para ver más allá de lo obvio, para captar los aprendizajes que surgen de la sabiduría ancestral, de nuestro ser interno y de nuestra conexión con el todo. Este es un día para reflexionar sobre nuestros actos y sus consecuencias, para cuestionarnos y profundizar en el propósito y rumbo de nuestra vida.

Latest posts by Denise Barrios
(see all)