4 K'AT ~ Today's Ch'umil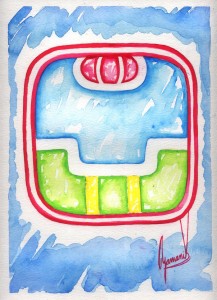 This day you have the power to trap the energy of fire, earth, air, and water. Cast the net that K'at provides you to catch those things that allow your development and personal balance. To reach the integral well-being we must reach realization in the four planes of existence.
Este día tienes el poder para atrapar la energía del fuego, la tierra, el aire y el agua. Usa la red que K'at te proporciona para atrapar todo aquello que te permite el desarrollo y equilibrio personal. Para alcanzar el bienestar integral debemos alcanzar la realización en los cuatro planos de existencia.

Carlos Barrios is a Mayan Ajq'ij, who originates from and resides in Guatemala. Carlos is the Coordinator of the Spiritual Reserves of Humanity for Central America and Coordinator of the Water Project for Central America for UNESCO.He has been given the mission by his elders to begin sharing the prophecies and teachings of the Mayan peoples with the rest of the world. Carlos travels internationally to share these teachings and to generate awareness and support for the rescue and preservation of the ancient Mayan tradition in his homeland. He is also the author of "The Book of Destiny", a book on the cosmology, Cholq'ij calendar and prophecies of the Mayan peoples.

Latest posts by Carlos Barrios (see all)