2 Spaces Left: Jan-Feb. Journey to Guatemala
This January 27 the paths will open for you to embark on a 10-day spiritual retreat in Guatemala which will be filled with the wisdom and healing of the ancestral Mayas.
This journey through the heart of the Maya world will be traveled in synchrony with the energies of the Sacred Cholq'ij Calendar, which will lead you to enter into profound contact with your being and to heal and empower yourself in a holistic way —physical, mental, emotional, and spiritual,—  using the energies that are available as a tool that helps you find your transformation, connection, and the awakening of your power. Along the way, you will meet and walk together with different Mayan spiritual guides, Tatas and Nanas, who will accompany your journey through their ancestral medicine of tobacco, meditation, ceremony, cacao, Tz'ite, sound, and other practices.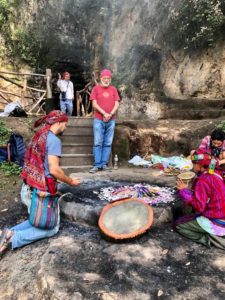 Denise Barrios and Andy Rocca, who will be your guides throughout the whole trip, have been walking the Maya and ancestral paths for several decades and through their own personal healing and transformational processes, they have outlined a journey that will bring you to powerful energetic places, sacred altars, profound medicines, and to meet great wise men and women, heirs to the ancestral wisdom of the Mayas.
The spiritual retreat will take place in Guatemala from January 27 to February 5. You can contact Denise via whatsapp or email for more information or to book your space:
+502 3097-5131 | denisebarriosjohannessen@gmail.com
***Please do keep in mind that there are only two spaces left.

Latest posts by Adam Rubel
(see all)