12 TZ'IKIN ~ Today's Ch'umil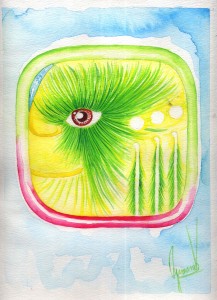 Ajaw Tz'ikin is the energy that allows us to elevate to the Heart of the Sky, to travel in space-time without losing our connection to Mother Earth. It is the diviner, the one that can see in each turn of the spiral of the Najt what will happen. It is the sacred vision. This Ch'umil is the intermediary that brings the messages of the cosmos to earth. Today its energy converges with number 12, which is the spiritual catalyst, the energy of the community. During this day communication and the word have a special force. Let's remember that our words are powerful, through them we can touch the mind, heart, and spirit of people. The word is a tool that can transmit love, knowledge, healing… Let's express our divinity through them, let's be open to the energy of 12 Tz'ikin to become the channel that brings the word of the Creator to this reality. Today we can light a pale blue candle to connect to the power of this Ch'umil.
Ajaw Tz'ikin es la energía que nos permite elevarnos hacia el Corazón del Cielo, movernos por espacio-tiempo sin perder nuestra conexión con la Madre Tierra. Es el adivinador, el que puede ver en cada vuelta de la espiral del Najt lo que acontecerá, es la visión sagrada. Este Ch'umil es el intermediario que trae los mensajes del cosmos a la tierra. Hoy su energía converge con el número 12 que es el catalizador espiritual, la energía de la comunidad. Durante este día la comunicación y la palabra tienen una fuerza especial. Recordemos que nuestras palabras son poderosas, con ellas podemos tocar la mente, el corazón y el espíritu de las personas. La palabra es una herramienta que puede transmitir amor, conocimiento, sanación… Expresemos a través de ella nuestra divinidad, abramonos a la energía de 12 Tz'ikin para convertirnos en el canal que trae la palabra Creador a esta realidad. Hoy podemos prender una vela celeste para conectarnos al poder de este Ch'umil.

Latest posts by Denise Barrios
(see all)