11 AJMAQ ~ Today's Ch'umil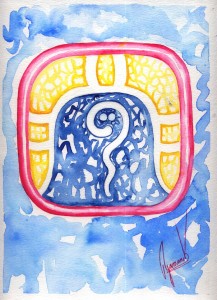 This day brings us the teaching of forgiveness as a way to heal our being. Ajmaq is a Ch'umil that symbolizes both forgiveness and curiosity, it is a curiosity that opens space for new knowledge, that allows us to explore life with enthusiasm, to create new realities. Its energy teaches us that every acquired knowledge and experience is learning and development. The number Julajuj -11- impels our evolution through the experiences and challenges that life brings us.
The way in which we grew up, the beliefs and thoughts we learned from our environment, have influenced the way we use to perceive the world, the methods and behaviors we have created to protect ourselves from pain or suffering, but which in reality may only prevent us from expressing our true selves in freedom. Today Julajuj Ajmaq speaks to us about developing a new way of perceiving life, of being connected to everything but attached to nothing, of seeking to become again what we were in our origin, of returning to our pure essence. It speaks to us about doing the work of forgiving ourselves, our inner child, and from that healing of our being, through this innate curiosity, being able to see life from the eyes of that child, nourishing ourselves with the experiences and knowledge that allow the expansion of our consciousness and our development in every sense. To revolutionize the way in which we perceive existence.
Este día nos trae la enseñanza del perdón como una forma de sanar nuestro ser. Ajmaq es un Ch'umil que simboliza tanto el perdón como la curiosidad, es esa curiosidad que abre espacio a nuevos conocimientos, que nos permite explorar la vida con entusiasmo, crear nuevas realidades. Su energía nos enseña que cada saber y experiencia adquirida es aprendizaje y desarrollo. El número Julajuj -11- impulsa nuestra evolución a través de las vivencias y retos que nos regala la vida.
La forma en que crecimos, las creencias y pensamientos que aprendimos de nuestro entorno, tienen un impacto en la forma en la percibimos el mundo, en los métodos y conductas que creamos para protegernos del dolor o del sufrimiento, pero que en realidad tal vez solo previenen que podamos expresar nuestro verdadero ser en libertad. Hoy Julajuj Ajmaq nos habla de desarrollar una nueva forma de ver la vida, de estar conectados a todo pero apegados a nada, de buscar volver a ser, regresar a nuestra esencia pura. Nos habla de hacer ese trabajo de perdonarnos a nosotros, a nuestro niño interior, y a partir de esa sanación, usar su curiosidad innata, viendo la vida desde los ojos de ese niño, nutriendonos de las experiencias y conocimientos que posibilitan la expansión de nuestra consciencia y nuestro desarrollo en todo sentido, revolucionando la manera en la que percibimos la existencia.

Latest posts by Denise Barrios
(see all)