10 K'AT ~ Today's Ch'umil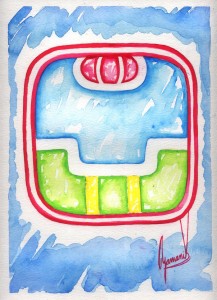 K'at is the Ch'umil that symbolizes the net, that which allows us to store the transcendent moments and knowledge in our memory, which gives us the power to untie the knots of our reality in order to flow through life without limitations. It is the energy of communication and interconnection, for it is one of the Ch'umilal that is related to Ch'ipi Kaqulja', the divine spark, the small ray of synaptic connection. Number 10 is energy in containment, it is a power that when activated allows us to break the limits, a channel that connects us to the cosmic and the telluric. Today that this number converges with K'at, it allows us to activate the power of our thoughts, to activate our creative synapse in connection with the creative force of the Universe and Mother Earth. Through oral tradition, the elders have taught us that this reality is a configuration of thoughts, that through our creative mind we configure our experience in this life, our existence in this Najt, space-time. Let's project the destiny that we want. Remember that the most complex net is the one in which we trap ourselves; we are infinite beings, let's not self-limit ourselves.
K'at es el Ch'umil que simboliza la red, esa red que nos permite guardar en nuestra memoria los momentos y conocimientos trascendentes, que nos da el poder de desatar los nudos de nuestra realidad para fluir por la vida sin limitaciones. Es la energía de la comunicación y la interconexión, pues es uno de los Ch'umilal que está relacionado a Ch'ipi Kaqulja', la chispa divina, el rayo pequeño de la conexión sináptica. El número 10 es la energía en forma de contención, es el poder que al ser activado nos permite romper los límites, el canal que nos conecta a lo cósmico-telúrico. Hoy que este número converge con K'at, nos permite activar el poder de nuestros pensamientos, activar nuestra sinapsis creativa en conexión con la fuerza creadora del Universo y la Madre Tierra. Por medio de la tradición oral los abuelos y abuelas nos han enseñado que esta realidad es una configuración de pensamientos, que a través de nuestra mente creativa configuramos nuestra experiencia en esta vida, nuestra existencia en este Najt, espacio-tiempo. Proyectemos el destino que queremos, recordemos que la red más compleja es aquella en la que nosotros mismos nos enredamos, somos seres infinitos, no nos auto-limitemos.

Latest posts by Denise Barrios
(see all)