11 KAN ~ Today's Ch'umil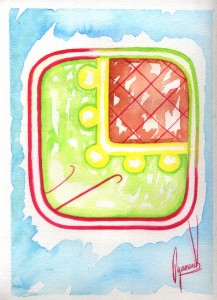 The Ch'umil of this day speaks to us about energy, it teaches us that energy is the essence of everything, that we ourselves are energy being expressed and through it we are connected to the universal power. Ajaw Kan is energy and movement, it is the internal fire that activates us, the power that elevates us to the cosmic and the subtle and leads us to reach completeness. It is transforming knowledge into wisdom, thought into action, it is transmuting everything to a higher state. Number 11 is a force that we must balance, it symbolizes the tests we have in this reality and which lead us to reach our fulfillment. The confluence of 11 Kan teaches us the importance of balancing our energy, of being aligned and in harmony with ourselves and with the universal energy in order to transform ourselves into that divine being that we are. Today we can do a visualization in connection with the power of 11 Kan. Envision how each particle and each atom of your being vibrates in synchrony with the energies of Mother Earth, the supreme energies, and with your purpose of being, with yourself. See how every energy blockage that prevents your development dissolves and how now energy flows through your body without obstacles. Let's become aware of our life and transform our energy in order to achieve evolution; Ajaw Kan is the catalyst that impels us towards this transformation.
El Ch'umil de este día nos habla de la energía, nos enseña que esta es la esencia de todo, que nosotros mismos somos energía siendo expresada y conectada al poder del universo. Ajaw Kan es energía y movimiento, es el fuego interno que nos activa, es el poder que nos eleva hacia lo cósmico y lo sutil, que nos lleva a alcanzar la plenitud. Es transformar el conocimiento en sabiduría, el pensamiento en acción, es el transmutar todo a un estado más elevado. El número 11 es una fuerza que debemos balancear, simboliza las pruebas que tenemos en esta realidad y que nos llevan a alcanzar nuestra realización. La confluencia de 11 Kan nos enseña la importancia de equilibrar nuestra energía, de estar alineados y en armonía con nosotros mismos y con la energía universal, para transformarnos en ese ser divino que somos. Hoy podemos hacer una visualización en conexión con el poder de 11 Kan, veamos como cada partícula y cada átomo de nuestro ser vibra en sincronía con las energías de la Madre Tierra, con las energías supremas y con nuestro propósito de ser, con nosotros mismos, como todos los bloqueos energéticos que impiden nuestro desarrollo se disuelven y la energía fluye por nuestro cuerpo sin obstáculos. Tomemos conciencia de nuestra vida, transformemos nuestra energía para alcanzar la evolución; Ajaw Kan es el catalizador que nos impulsa en esta transformación.

Latest posts by Denise Barrios
(see all)