1 KAWOQ ~ Today's Ch'umil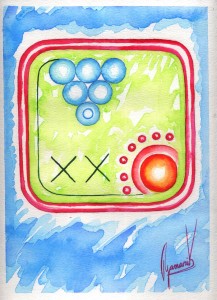 The strength of this day comes from unity and sharing. Kawoq is the Ch'umil that represents family and community, it is expansion, abundance, and integration. Its magic speaks to us about the importance of creating bonds, of acting with love, tolerance, and solidarity, understanding that we are part of a whole, that although each one of us has a personal evolutionary work we are all connected. It tells us that we should not judge others harshly, that we should have empathy and understand that each of us experiences life perfectly according to the growth and experiences we need for our development and evolution. On this day Ajaw Kawoq converges with number 1 which is unity and a creative force. The fusion of these two energies impels us to harmonize with the planet, with each being, with everything that surrounds us, remembering the importance of respecting each other. 1 Kawoq tells us that with each person who is part of our journey we have bonds of joint learning, that part of our development is formed in the family and community. On this day a new trecena begins and during the next thirteen days Ajaw Kawoq brings us a teaching of sharing, of supporting each other, and growing together. This small cycle is a time to work on our shared evolutionary process, to be aware of how we influence others and of what we absorb from the world around us. Let us remember that our light and example, that expressing our essence, our authentic self, is a powerful way to inspire others.
La fuerza de este día surge de la unión y del compartir. Kawoq es el Ch'umil que representa a la familia y la comunidad, es expansión, abundancia e integración. Su magia nos habla acerca de la importancia de crear vínculos, de actuar con amor, tolerancia y solidaridad, entendiendo que somos parte de un todo, que aunque cada quien tenga un trabajo evolutivo personal estamos conectados. Nos indica que no debemos juzgar a los otros con dureza, que debemos tener empatía y comprender que cada uno de nosotros experimenta la vida de manera perfecta acorde al crecimiento y experiencias que necesita para su desarrollo y evolución. En este día Ajaw Kawoq converge con el número 1 que es la unidad y la fuerza de la creación. La fusión de estas dos energías nos impulsa a armonizarnos con el planeta, con cada ser, con todo lo que nos rodea, recordando la importancia de respetarnos los unos a los otros. 1 Kawoq nos dice que con cada persona que forma parte de nuestro camino nos unen lazos de aprendizaje conjunto, que parte de nuestro desarrollo se forma en la familia y la comunidad. En este día comienza una nueva trecena y durante los próximos trece días Ajaw Kawoq nos trae una enseñanza de compartir, de apoyarnos y crecer en conjunto. Este pequeño ciclo es un tiempo para trabajar en nuestro proceso evolutivo compartido, para ser conscientes de la forma en que influenciamos a los demás y de lo que nosotros absorbemos del mundo que nos rodea. Recordemos que nuestra luz y ejemplo, el expresar nuestra esencia, nuestro yo auténtico, es una forma poderosa de inspirar a otros.

Latest posts by Denise Barrios
(see all)