WAQIB' Q'ANIL ~ Today's Ch'umil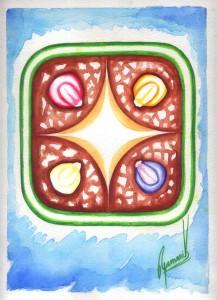 Q'anil represents the seed that gives life and makes it possible for everything to spring if we nurture it, it is our capacity to create. Today its energy converges with that of the number Waqib' -6- which leads us to evolve through the trials we encounter on our path, which is our learning and the responsibility we have to nurture ourselves and grow.
Let us remember that seeds sprout from the darkness, for they need to experience that moment in order to open up to the light, to take root, grow tall and strong, and flourish.
The elders say that to be in the light we must have survived the darkness. That we must be like seeds, willing to move with the wind and flow with the sways of life until we find our soil. That we must embrace our moments of darkness, for it is through the calm, silence, and nurturing that they gift us, that we can thrive.
Q'anil representa la semilla, aquella que da vida y hace posible que todo surja si lo cultivamos, que es nuestra capacidad de crear. Hoy su energía converge con la del número Waqib' -6- que nos lleva a evolucionar por medio de las pruebas que se presentan en nuestro camino, que es el aprendizaje y la responsabilidad que tenemos de nutrirnos y crecer.
Recordemos que las semillas brotan desde la oscuridad, pues necesitan transitar ese momento para poder abrirse a la luz, para enraizar, crecer alto y fuerte, y florecer.
Dicen los abuelos que para estar en la luz debemos haber sobrevivido la oscuridad, que debemos ser como semillas, estar dispuestos a movernos con el viento y fluir con los vaivenes de la vida hasta encontrar nuestra tierra. Que debemos abrazar nuestros momentos de oscuridad, pues es a través de la quietud, el silencio y el cuidado que estos nos regalan que podemos desarrollarnos.

Latest posts by Denise Barrios
(see all)