WAQIB' KAN ~ Today's Ch'umil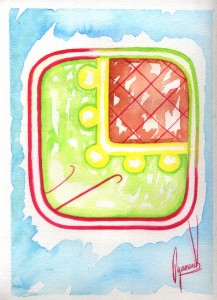 Kan is the Ch'umil that speaks to us about energy. Its wisdom reminds us that the energy we emit and in which we vibrate is one of the great powers we possess to transform our reality. The number Waqib' -6- brings to our path the learnings we need to transit in order to reach our development, it is what we must work on for our growth.
May our energy be coherent with the life experience we wish to have. Let us remember that our essence does not lie, our energy is the form in which we communicate and by working with it we can configure our reality. Our energy can attract, heal, transmute, elevate our being to other levels… The wise grandfathers and grandmothers had this knowledge and they were conscious of the importance of doing practices to move and work with energy. May our spiritual practice today be focused on the energetic work, may meditation, physical movement, the energetic unblocking of our joints and spine… become the tool that leads us to our growth.
Kan es el Ch'umil que nos habla de la energía. Su sabiduría nos recuerda que la energía que emitimos y en la que vibramos es uno de los grandes poderes que poseemos para transformar nuestra realidad. El número Waqib' -6- trae a nuestro camino los aprendizajes que necesitamos transitar para alcanzar nuestro desarrollo, es aquello en lo que debemos trabajar para crecer.
Que nuestra energía sea coherente con la experiencia de vida que queremos tener. Recordemos que nuestra esencia no miente, nuestra energía es la forma en que nos comunicamos y al trabajar con ella podemos configurar nuestra realidad. Nuestra energía puede atraer, sanar, transmutar, elevar nuestro ser a otros niveles… Los sabios abuelos y abuelas tenían consciencia de esto, eran conscientes de la importancia de realizar prácticas para mover y trabajar con la energía. Que nuestra práctica espiritual de hoy este enfocada en el trabajo energético, que la meditación, el movimiento físico, el desbloqueo energético de nuestras articulaciones y columna… sean el medio que nos lleve al crecimiento.

Latest posts by Denise Barrios
(see all)