WAQIB' IMOX ~ Today's Ch'umil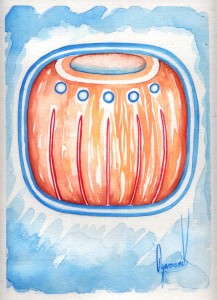 This day can bring confusion or imbalance for which being conscious, aware of our words, thoughts and feelings is important. Let us remember that worrying doesn't solve anything, it only clouds our vision and makes it more complicated for us to find good paths. So if we feel that things are stagnant let us better work on flowing; let us breathe, sing, meditate, cook, dance, go for a walk or see the sun, whatever brings lightness and recharges us with good energy.
The energy of Imox relates to all that is subtle, intuitive, and eccentric. It is the essence of our consciousness, the interconnection of our ideas, it is mental strength and power, it is magic and wisdom fused. Its force allows us to break with the structures of the material world in order to access the magical-energetic world, to capture the messages of the cosmos and nature. This sign is said to bring the energy of craziness, however, this does not speak of a mental imbalance, it is rather an energy that manifests the magic of life. Imox is also the spirit of water, its power connects us to the force and purity of this element. The teaching of Ajaw Imox is that of experiencing an openness to the unknown, for this Ch'umil is the one that allows us to activate our dormant senses, that helps us flow and have the determination to not get stuck so that we reach a higher level of development, so that we are able to traverse more intuitive paths. Number 6 is an energy that brings forth the tests that teach us, that drive us to work on our development. This number is connected to the material world and it is through its teachings in this tangible reality that it impels us to reach our greatest potential, not only on the physical plane, but also emotionally, mentally, and spiritually.
Hoy el día puede traer confusión o desbalance por lo que estar conscientes y ser especialmente cuidadosos con nuestras palabras, pensamientos y sentimientos es importante. Recordemos que preocuparnos no resuelve nada, solo nubla nuestra visión y nos hace más complicado el encontrar buenos caminos, así que si sentimos que las cosas se estancan trabajemos mejor en fluir; respiremos, cantemos, meditemos, cocinemos, bailemos, salgamos a caminar o a ver el sol, lo que sea que nos despeje y nos haga cargarnos de buena energía.
La energía de Imox se relaciona con todo aquello que es sutil, intuitivo y excéntrico. Es la esencia de nuestra conciencia, la interconexión de nuestras ideas, la fuerza y el poder mental. Es magia y sabiduría fusionadas, su fuerza es la que nos permite romper con las estructuras del mundo material para acceder al mundo mágico-energético, para captar los mensajes del cosmos y la naturaleza. Se dice que este es el signo de la locura, pero esto no nos habla de un desbalance mental, es más bien una energía que manifiesta la magia de la vida. Imox es también el espíritu del agua, su poder nos conecta con la fortaleza y pureza de este elemento. La enseñanza de Ajaw Imox es la de tener una apertura a lo desconocido, pues este Ch'umil es quien nos permite activar nuestros sentidos dormidos, es quien nos ayuda a fluir, a tener la determinación para no quedarnos estancados y alcanzar un nivel más alto de desarrollo para transitar senderos más intuitivos. El número 6 es una energía que hace que surjan las pruebas que nos enseñan, que nos empujan a trabajar en nuestro desarrollo. Este número está conectado al mundo material y es a través de sus enseñanzas en esta realidad tangible que nos impele a alcanzar nuestro mayor potencial no solo en plano físico, sino también en lo emocional, mental y espiritual.

Latest posts by Denise Barrios
(see all)