WAQIB AJMAQ ~ Today's Ch'umil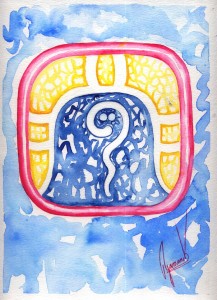 We have been led to believe that what is more difficult to achieve is more valuable and that there are certain things that are simply impossible to reach. We have been limited by teachings that do not allow us to see the great potential that we hold. Today the energies remind us that oftentimes things are simpler than what we have been told, that we are unlimited beings and we were created full of possibilities, we just have to recognize our potential.
This day helps us to discover, to find answers to that which is unknown to us, to tear the veils that cloud our vision so that we can be able to see deeper. Let us open the paths that lead us to receive the wisdom that comes from the universe, let us listen to nature and connect with the depths of our inner self, let us remember that great knowledge is kept there, that in the simplest things lies the greatest power.
Se nos ha hecho creer que aquello que es más complicado de alcanzar es más valioso y que hay ciertas cosas que simplemente son imposibles de lograr. Hemos sido limitados por enseñanzas que no nos permiten ver el gran potencial que poseemos. Hoy las energías nos recuerdan que a menudo las cosas son más simples de lo que nos han contado, que somos seres ilimitados y fuimos creados llenos de posibilidades, solo debemos reconocer nuestro potencial.
Este día nos ayuda a descubrir, a encontar respuestas a aquello que nos es desconocido, a correr los velos que nublan nuestra visión para que así podamos ver un poco más profundo. Abramos los caminos que nos llevan a recibir la sabiduría que surge del universo, a escuchar la naturaleza y conectar con la profundidad de nuestro interior, recordemos que ahi se guarda un gran conocimiento, que en lo más simple está el más grande poder.

Latest posts by Denise Barrios
(see all)