WAJXAQIB' TIJAX ~ Today's Ch'umil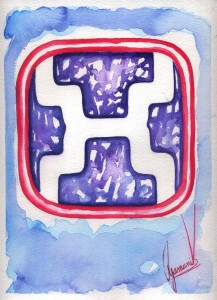 Ajaw 8 Tijax is the lightning, it is the obsidian stone. The wise elders call it the double-edged knife. This Ch'umil has an important role, for it is the one that breaks the ties that trap us in each of the planes of existence -physical, mental, emotional, spiritual.- It is the energy that removes illnesses, which brings healing and gives us the strength to cut what traps us. Tijax allows us to open new paths, it also gives us the possibility to open spaces towards other dimensions. This Ch'umil frees us from the limitations of our reason and brings us a sense of freedom. Today we can light a black or purple candle to connect with the wisdom and power of healing and purification, to have the determination we need to break with everything that limits us.
Ajaw 8 Tijax es el rayo, es la piedra de obsidiana. Los abuelos sabios la llaman el cuchillo de doble filo. Este Ch'umil tiene un rol importante, pues es el que rompe las ataduras que nos atrapan en cada uno de los planos de existencia -físico, mental, emocional, espiritual-. Es la energía que se lleva las enfermedades, que trae sanación y nos da la fuerza para cortar lo que nos atrapa. Tijax nos permite abrir nuevos caminos, nos otorga también la posibilidad de abrir el espacio hacia otras dimensiones. Este Ch'umil nos libera de las limitaciones de nuestra razón, nos trae el sentido de libertad. Hoy podemos encender una vela negra o morada para conectar con la sabiduría y poder de sanación y purificación, para tener la determinación que necesitamos para romper con todo aquello que nos limita.

Latest posts by Denise Barrios
(see all)