TZ'IKIN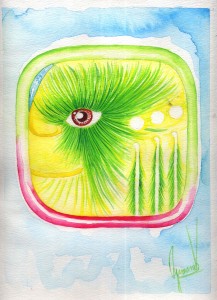 SIGNIFICANCE OF THE GLYPH
The glyph symbolizes the head of the eagle. The superior part, the boldness. The vertical lines are the feathers behind the head.
THE DAY
Tz'ikin is the intermediary between the sky and the earth, between god and man/woman. This day is of the spiritual elevation, of the full human realization and of the material bonanza, the production and material stability. It is the best day for love, to ask for the abundance, as well as for the particular person and for the community, protection in the business, to ask for the intimate partners and the friendships. In the spiritual, intuition is in good aspect, the vice, precognition and the revelations in the dreams. It signifies the guardian bird for all the land in the Maya area. It is the liberty, the messenger, the treasure, the luck and the money. This sign brings the good relationships, has magnetism, it is the perfect day to interact in anything, specially love affairs and business. The energy of the sign is accompanied with a global consciousness. Embodies the idealism of work for the community. Signifies the abundance of the crops, good business, love and art in the acts of life. Intermediary between the Ajaw (creator) and the human being. Represented by everything that exist in space; air, clouds, cold and hot; forces that the heart of the skies have created for our service.
THIS DAY IS GOOD TO
Ask for the abundance – personal and for the community. Ask for protection for the business, so we may be free of illness and bad destiny. To ask for true love. To take away the sadness in the soul. It is a good day for the love to surface between two people. It is a day which to ask for fortune and good luck. To do away with anger and envy. It is the best day to ask for our internal powers. It is a day to increase the intuition, the vision and the revelation in the dream.
PRONUNCIATION BY ELDER MARIANO XUTUMIL