Rab'inal Achi – A Traditional and Spiritual Maya Dance
For 1,100 years the Rab'inal Achi dance has been performed by the Maya people. This dance commemorates a great event for the Rabinaleb' (one of the 33 Maya ethnic groups). The Rabinaleb' had defeated the K'iche', one of the most powerful Maya ethnic groups, in a war for their political independence. The Rab'inal Achi is performed by 7 dancers, six of which are Rabinaleb': Rabinal Achi (high rank warrior), Job Toj (governor), Yamanik (governor's wife), Mun (servant), Kot (eagle warrior), B'alam (jaguar warrior); and the K'iche' dancer: K'iche' Achi (high rank warrior). To commemorate this event and to relive all the spiritual energy of that moment, the dancers celebrate several Kotz'ij (Maya Ceremonies) before they perform. In these ceremonies they offer Pom (Maya incense), Kakaw (cacao), May (tobacco), Raxkab' (honey) and Iya (Pericón – a sacred plant of the Maya people). One purpose for this ceremony is to bring the energy of the dancers into harmony with the energy of the sacred sites invoked in the dialogues.  The ceremonies are made by an Ajq'ij (Maya shaman) who accompanies the dancers throughout the dance.  The Ajq'ij is in charge of celebrating Maya ceremonies in seven sacred places: the church, the cemetery and five sacred hills: Kajyub', K'amb'a, Saqtijel, Xamb'aja' and K'isintun, some of which are archeological sites. Every time the dancers perform the Ajq'ij prays at the beginning and at the end of the performance.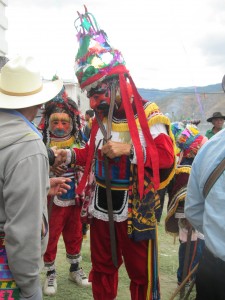 The dancers have to be prepared on every level before performing.  They practice sexual abstinence for 30 days before and 30 days after the dance to increase their energy. They must have a good relationship with their family, neighbors and friends, and they must nurture themselves intellectually.  Through this they find balance in their intellectual, spiritual, emotional and physical bodies.
The dancers wear masks to represent the story's characters. These masks are considered sacred, as the dancers become in contact with the rajawales (energies of the dead characters they are representing) through them. A special ritual is practiced with the masks, called "The Vigil of the Masks". During the ritual they offer pom (incense), they pray, light candles and they invoke the energy of the dancers who have passed. They don't sleep during that night. The Rab'inal Achi is performed every year on January 25.
The way in which the dancers prepare themselves before performing is something each artist can do to bring spiritual elements to their art. This can be done by lighting a candle before performing or creating. Through this candle, the dancer offers gratitude and connects with the energy of the creator and former of life. This can also be acheived through meditating to find balance in the intellectual, spiritual, emotional and physical bodies and to connect with the creative energy, which will give one all the elements needed to create.

Latest posts by Denise Barrios
(see all)