OXLAJUJ NO'J ~ Today's Ch'umil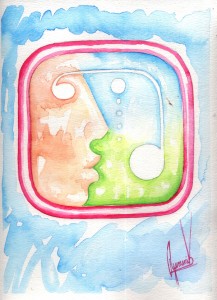 On this day we are vibrating with the energy of No'j, the power that connects us to our creativity, not only that which is related to art, but the capacity we possess to create our own reality, to shape our existence through the power of our mind, of conscious and directed thought. And the number Oxlajuj (13) which gives us the strength and wisdom that impels our evolution. This day reminds us that when our mind constantly repeats a thought, it gives it more and more energy and this energy materializes it. Oxlajuj No'j brings us the teaching that when we are aware of the power of creation that we hold, when we know that we are in control of the thoughts to which we give our energy, we can use our being to create, to heal ourselves, to manifest our future. The power of this day reminds us that the brain co-creating with the heart is a powerful and wonderful tool that leads us to the realization of our being.
Today is the last day of the Kan trecena, let us take a moment to thank this Ch'umil for the energy, learning, and power it has transmitted to us during this short cycle of thirteen days.
En este día estamos vibrando con la energía de No'j, el poder que nos conecta a nuestra creatividad, no solo a esa que está relacionada al arte, sino a la capacidad que poseemos de crear nuestra propia realidad, de dar forma a nuestra existencia través del poder de nuestra mente, del pensamiento consciente y direccionado. Y con el número Oxlajuj (13) que nos confiere la fortaleza y sabiduría que impulsa nuestra evolución. Este día nos recuerda que cuando nuestra mente repite un pensamiento constantemente le da cada vez más energía y esta energía lo va materializando. Oxlajuj No'j nos trae la enseñanza de que cuando somos conscientes del poder de creación que poseemos, cuando sabemos que tenemos el control de los pensamientos a los que damos nuestra energía, podemos usar nuestro ser para crear, para sanarnos, para manifestar nuestro futuro. La fuerza de este día nos recuerda que el cerebro co-creando con el corazón son una herramienta poderosa y maravillosa que nos conduce hacia la realización de nuestro ser.
Hoy es el último día de la trecena de Kan, tomemos un momento para agradecer a este Ch'umil por la energía, aprendizaje y poder que nos ha transmitido durante este pequeño ciclo de trece días.

Latest posts by Denise Barrios
(see all)