OXLAJUJ K'AT ~ Today's Ch'umil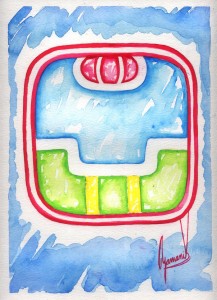 Ajaw K'at is the power that teaches us to break the bonds and free ourselves from the nets that contain us. This Ch'umil is the one that allows us to catch the superior knowledge and encourages us to share it, for its energy rules over communication and interconnection. Today that K'at flows with number 13, it helps us preserve our experiences and knowledge to be able to transform them into development and wisdom. The power of this number brings a magic that opens us to the possibility of change, of creating ourselves to achieve fulfillment. This energy convergence reminds us that there is only one thing that can limit us and that is our own selves. We possess the magic to free ourselves from all the limits that restrain us, to flow with existence so that our being can expand. Every action that we take to work within our being, to break the rigidity of our mind, and liberate ourselves from the limits that we have allowed to trap us, is a step towards our freedom and evolution. Today the trecena (thirteen-day cycle) of Ajaw E comes to an end, let us thank this Ch'umil for each path it has opened for us, for each step that we have advanced along the way.
Ajaw K'at es el poder que nos enseña a romper las ataduras y liberarnos de las redes que nos contienen. Este Ch'umil es quien nos permite atrapar el conocimiento superior y nos impulsa a compartirlo, pues su energía rige sobre la comunicación y la interconexión. Hoy que K'at fluye con el número 13 nos ayuda a almacenar nuestras experiencias y conocimientos, a poder transformarlos en desarrollo y sabiduría. El poder de este número trae una magia que nos abre a la posibilidad de cambiar, de crearnos para alcanzar la realización. Esta convergencia energética nos recuerda que solo hay una cosa que puede limitarnos y esa somos nosotros mismos. Nosotros poseemos la magia para liberarnos de todos los límites que nos contienen, para fluir con la existencia, para que nuestro ser se expanda. Cada acción que tomamos para trabajar en nuestro interno, para romper la rigidez de nuestra mente y liberarnos de los límites que hemos permitido que nos atrapen, es un paso hacia nuestra libertad y evolución. Hoy finaliza la trecena de Ajaw E, agradezcamos a este Ch'umil por cada sendero que ha abierto para nosotros, para cada paso que hemos avanzado en el camino.

Latest posts by Denise Barrios
(see all)